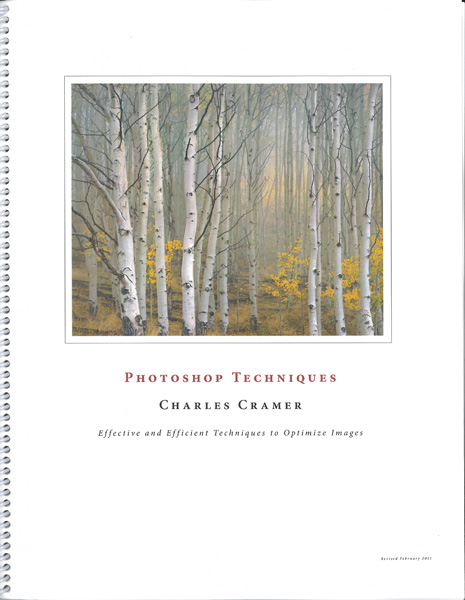 Okay, here's finally a link to the book you've heard me heartily recommend all these years. It is Charlie Cramer's Photoshop Techniques workbook.
This is the best-written, most useful publication I've ever encountered regarding post-processing. Just imagine a Photoshop book that is actually fun to read, easy to understand, yet contains the essentials for getting the most out of your images. And it's all done just using Photoshop. Don't rely on plug-ins to make your post-processing decisions for you. Learn to use the versatile tools you've already paid for in Photoshop.
Not only will you learn how to optimize your image files, you will understand what you are doing and why you are doing it. You will learn to see what your images need, and how both global and local corrections can rearrange the light to more closely match the vision you had when you made the image in the field.
In addition to the magnificent workbook, Charlie includes a CD with the example images from the book with all the Layers included. Using that CD with the book will not only demonstrate the technique, but allows you to turn off the Layer, and try it for yourself, using the same image. You can then compare your version with Charlie's. It's an invaluable learning tool.
The workbook and CD are only $40, and are currently only available directly from Charlie. Please contact him at http://charlescramer.com/contact.html, and tell him I recommended his workbook to you. He will respond with how to make the payment. Before you know it, you will see a tremendous improvement in your images.
Make sure you check out Charlie's work on his website at www.charlescramer.com.