Okay, admit it. If you're a photographer, you came to this page first didn't you? Thought so.
Many years ago, for my day job as an automobile accident reconstruction engineer, I bought my first film SLR kit: a Minolta X700 with a couple off-brand lenses. After a couple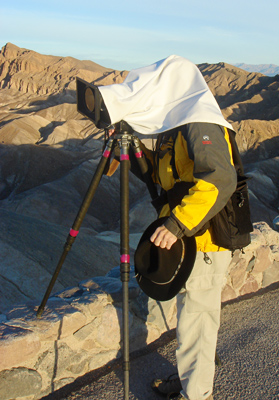 years, I graduated to a Nikon F4 with a couple better quality third party lenses, and a passable tripod. When the Nikon F5 came out, I traded in my trusty F4, and upgraded not just my camera, but my lenses as well. I also bought my first Gitzo tripod. That's when I started taking photography more seriously.
Initially, I resisted the digital revolution, consoling myself that I was learning "real" photography instead. Even though I bought (and secretly loved) a 3.2mp Nikon Coolpix 990 in late 2000, I steadfastly held out from buying a DSLR until acquiring a Nikon D1x in late Summer 2001. I promptly sold all vestiges of my film equipment, including my film point-and-shoot cameras. I've never looked back.
I've progressed through the Nikon pro-level DSLR cameras, and now use a D800E (for landscape, travel, and other personal work) and a D3s (for low light, for events and some personal work, and for my engineering work).
My Nikon lenses include: 70-200mm f/2.8 VRII (my favorite); 24-70mm f/2.8; 14-24mm f/2.8; 300mm f/2.8 VRII; 60mm, 105mm, and 70-180mm Micro (macro); 70-300mm f4.5-5.6; 50mm f/1.4 and f/1.8; 85mm f/1.4 and f/1.8; 85mm tilt-shift; 16mm fisheye; the old 28mm and 35mm PC (shift) lenses; and the 1.4x, 1.7x, and new 2.0x teleconverters. I also have a Sigma 8mm circular fisheye.
My essential field gear includes: Really Right Stuff TVC-34L Versa tripod with LensCoat LegCoat covers; Arca-Swiss C1 Cube geared head (a treasure); Nikon MC-20 cable release; Dawn Technology di-GPS Pro; Tom Vadnais Photography weather-proof focusing cloth (now available from me—just e-mail); Lee filter holder with wide angle hood; B+W circular polarizer; several Singh-Ray graduated ND filters; and a Lee Big Stopper plus several other Lee neutral density filters. My ever-present crushable black felt hat is not only incredibly fashionable, but serves double-duty as a lens shade.
While traveling, all photo gear (except the tripod) is carried in a Think Tank Airport Security v2.0 rolling bag. When I get to my shooting location, I transfer what I am going to use in the field into a Think Tank belt system comprising a Steroid Speed Belt with a Pixel Racing Harness and a variable collection of Skin and Modular pouches, depending on the lenses and equipment I think I'll need. Once you get used to carrying and working out of a belt system, you can't go back to a backpack. It is fast, comfortable, carries easily, and never has to be set down. You'll likely never win a fashion award while wearing a belt system, but since you're on the other side of the lens, who cares? Besides, you can always hide under your focusing cloth, if it really bothers you!