Late summer 2001, I swapped my beloved Nikon F5 film camera for a Nikon D1x. While I had been dabbling in digital using a Nikon Coolpix 990 compact digital camera, the D1x was my first digital SLR. I had been keeping up with the Nikon DSLR developments through Thom Hogan's website, and decided it was time to make the switch.
Of course, the fundamentals of using a camera (aperture, shutter speed, focusing, etc.) were the same between film and digital. But digital brought so many other tools and techniques to learn (white balance, instant review, histograms, blinking highlight warnings, etc.), I decided to take a workshop with Thom so I could start to master using a DSLR. It was a wise choice, as I came away from that workshop with a good working knowledge of my new camera.
Well, Thom didn't stop with workshops. Since the earliest days of Nikon DSLRs, Thom has written a series of incomparable users manuals, which he justly calls "Complete Guides". I download the fully searchable PDF e-books, then read them (and refer to them) on my iPad. They thoroughly explain every button, switch, wheel, and menu item in unsurpassed detail. If that's all they did, they would be worth the read.
But they do much more. Thom suggests specific settings, and recommends against others, based on his long-time real-world use of the cameras. But, again, he does even more than that. For each recommendation, Thom discusses how and why those settings will affect your photography. These discussions allow you to understand what each function or setting does, why it does it, and how you can best use it. If you own a Nikon DSLR, whether FX or DX, I cannot recommend Thom's guides highly enough.
Even though I've been shooting with a pair of Nikon D810's for over a year (and with a fairly similar D800E before that), I've been looking forward to his D810 book all along. Well, it's now here. Even if you're an experienced Nikon owner, if you own a D810 (or any other Nikon DSLR), you owe it to yourself to buy and read Thom's Guides.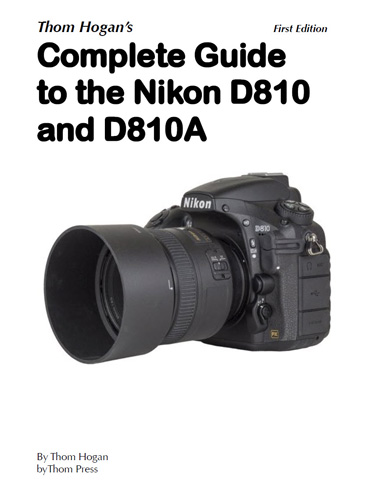 Here's a link to his D810/D810A Guide: http://www.dslrbodies.com/books/bythom-complete-guides-/nikon-d810-guide.html. Any of his guides can be accessed with the link to his home page: http://www.bythom.com/.
©2015 Tom Vadnais Photography